How far we've come from where we were.
It's an auspicious occasion here at Blondihacks. You see, my Philips Sonicare Elite toothbrush died. Why is that an occasion of note? Well, the same failure of this same toothbrush roughly four years ago is the event that started Blondihacks. The toothbrush was roughly four years old at the time, and it died because the internal NiCd battery would no longer accept a charge. NiCd batteries do that. They kinda suck. That failure caused something to break inside me as well. A $140 device lasting four years, then failing due to a $2 part was simply unacceptable. The prominent label of "no user serviceable parts inside" would never again deter me from getting my money's worth out of a product. Luckily, that first repair went really well, and I was inspired to keep doing it (and keep blogging about it). Had the toothbrush melted down in my hand that day, perhaps there would be no Blondihacks, no Veronica, and of course no Dish-O-Tron 6000 Extreme. What fun would that be?
Here we are four years later, and it's time to replace the battery in the toothbrush again. I've learned a few things since last time, and picked up a few new tools as well. This time around, for instance, I've learned you can buy batteries with tabs spot-welded on. No need to foolishly attempt to solder wires directly to a battery with a high-wattage iron. I also have a proper desoldering gun, so no more splattering solder everywhere as I yank things apart while holding the iron to the joints. It's a brave new hacking world.
Once again, there was no way I was letting an expensive device go in the trash because of a single weak point. This thing is basically just a water-tight tube with a voice-coil in it, after all. There's no reason it shouldn't last virtually forever. I aim to ensure it does.
I had to remind myself how to take this thing apart. Luckily, I wrote it down on the internet the first time. I jest, but that's a genuine reason why I keep blogging this stuff. It's an engineer's notebook of sorts. I can't tell you how many times I've referred back to my own posts to remember how something works! This toothbrush looks as though there is no way to take it apart. No visible fasteners, and hardly so much as a case seam to work with. However, as I always say, anything that was assembled can be disassembled. The trick here is:
Remove the little rubber trapezoidal "foot rest" on the back.
Under that is a plastic trapezoid. Pop that off with a metal pick.
Unscrew the toothbrush head, then pop the mounting ring off of it.
Screw the "naked" mounting ring back on to the base.
Over-tighten the ring slightly while pulling on it. This breaks the seal between the inner and outer layers of the case.
The guts of the brush will pull straight out (do not twist!).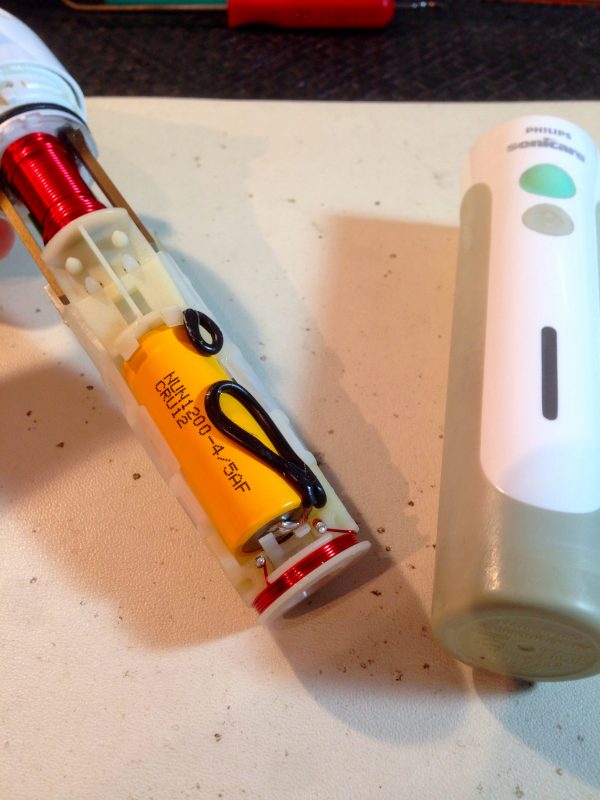 As you can see, last time I bought a normal 4/5AF NiCd cell, and soldered wires to it. I then ran these wires around the back and soldered them to the PCB where the old battery's tabs inserted. This time, I think I can do a little better.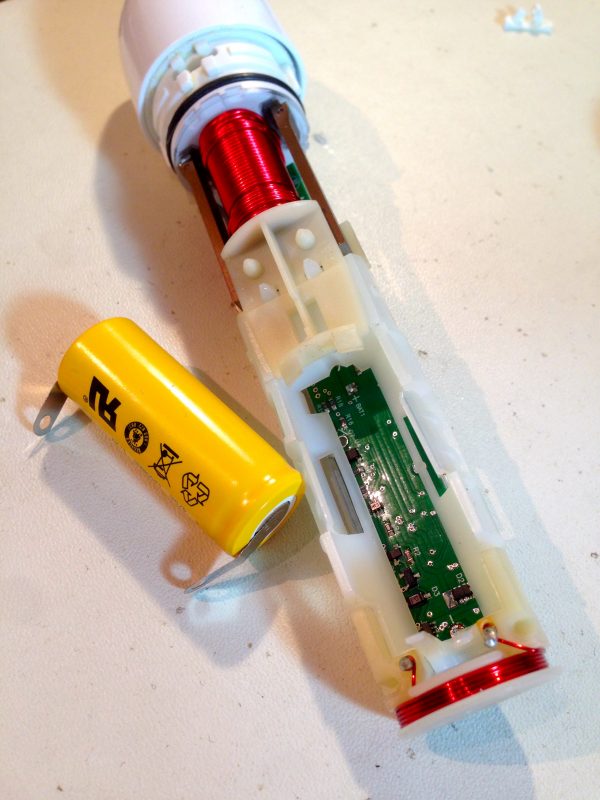 Naturally, I was pretty chuffed with myself for ordering a 4/5AF NiCd cell with spot-welded tabs this time. That chuff didn't last long, however, as I soon realized these tabs were entirely too big for the itty bitty PCB holes they needed to mount into. Turns out there are different kinds of spot-welded battery tabs. No matter how much you learn, there's still things you don't know. Luckily, I'm making a note of this here on the internet so I can refer back in four years' time. Third time will be the charm for a flawless repair, perhaps?
Okay, this has officially turned in a hack again, so here go. First thing to do is massage these tabs so they'll fit my requirements. I cut each tab into a T shape, leaving a skinny bit sticking down in the middle. I then crushed this skinny tab lengthwise to form it into a kind of "fat wire".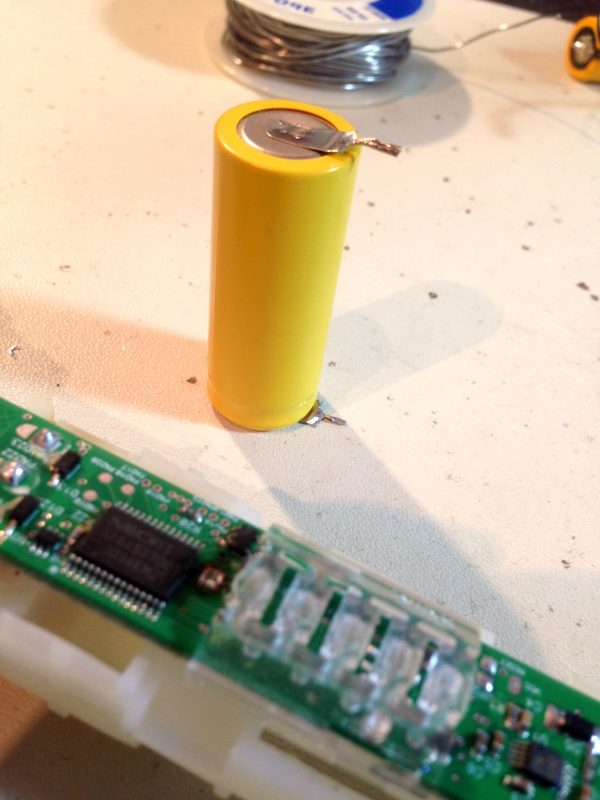 We're not out of the woods yet, however. The battery has a plastic bracket that holds it in place at the top and tightly along the sides. This is likely an anti-vibration measure. The catch (nyuk nyuk) is that this bracket prevents us from inserting the battery straight down into the PCB. This makes it very difficult to get the tabs into the holes.
To overcome this, I had an idea that was both very clever and very stupid. Thinking like a seamstress, I figured I needed some guide wires to draw the tabs into the holes, regardless of the angle of insertion of the battery. Since the tabs are metal (honest), the easiest way to do this was solder some wires on there to fish through the holes. Great idea, right? Well, almost. You see, I neglected to consider that this battery is not dead, and this toothbrush has no genuine off switch. I'm soldering a live battery into a live circuit. Live. The potential here is for my guide wires to short on something (or each other) and cause all manner of grief. This would be a minor concern, except that the wire I had handy wouldn't fit through the PCB holes intact. Rather than finding some smaller wire, I gleefully stripped the insulation off so it would fit.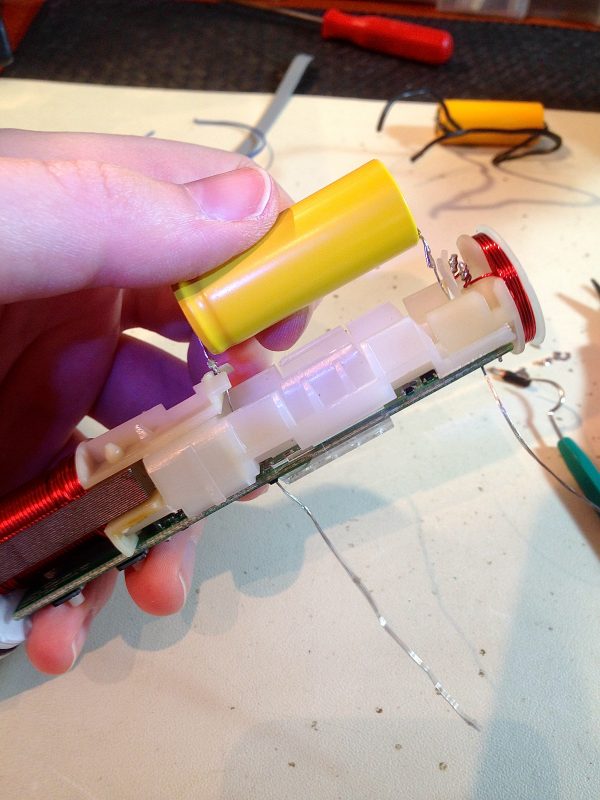 Luckily, the universe let me off with a warning this time. At one point during my tab-fishing, something did short, and the whole assembly suddenly got very warm. I happened to be touching the parts that shorted, so I was notified promptly of the error, and was able to correct the situation with extreme haste. In the end, my fishing technique did actually work, and I got things settled into place.
Reassembly is the reverse of disassembly, as we say. I soldered in my tabs, cut off the fish wires, and we were in business.
Thus wraps up our first Toothbrushversary here at Blondihacks. Maybe I'll see you all again in four years, when this needs doing again. I hope you'll keep reading, and I'll keep pretending I know what I'm doing. I shall conclude this post with the same sentiment that started this entire blog:
No user-serviceable parts, my ass. Come on, Philips- what else you got. I can do this all goddam day.