Rescuing a good product from bad customer service.
I've been setting up my house for wireless music throughout. The technology I chose is Apple's Airplay. It has a terrific feature set, it operates over my existing wi-fi, and the components are inexpensive. Most rooms need only a second-hand or refurbished Aiport Express, and rooms with televisions get an AppleTV. The system allows me to enable any combination of zones, and stream all my media to anywhere, from my computer, tablet, or phone. Cheap, easy, and powerful. All it needs is amplifiers!
The Airport Express is a fantastic (and wildly underappreciated) little box for slinging wireless music around. The output is line-level however, so it needs an amp. I searched for a nice compact amplifier that could drive bookshelf speakers from the Express, and found Amphony's Model M100. It's a lovely looking little amp, has good reviews, and is reasonably priced. So I ordered one to try it out.
Things got weird right away. The company seems to be based in New York, but this amp was sent to me via USPS from a house in Illinois. The address seemed odd, so I googled it, and it's just some woman's house in suburbia (her name was in the originator address from USPS). Strange, but okay, I have my amp.
Well, it was Dead On Arrival.
The next step was to call Amphony customer support. The customer support phone number on their website doesn't go to a company switchboard or anything- it rings directly to some guy named Abraham's desk. Okay, maybe it's a small company. I left a message for Abraham, but never got a response. Days, went by, and I kept trying. Then weeks went by. I tried email as well. Finally, Abraham did get back to me, I explained the situation, and he seemed genuinely interested in helping. He issued an RMA, took my address, and said a replacement was en route. More weeks went by. I started calling and emailing again. No response. By now, it's been months, the replacement never showed up, and my calls and emails are being ignored. Abraham no longer seems to exist.
So, I'm out $70, right? Well, nothing to lose now, so I might as well crack it open and see if it's an easy fix.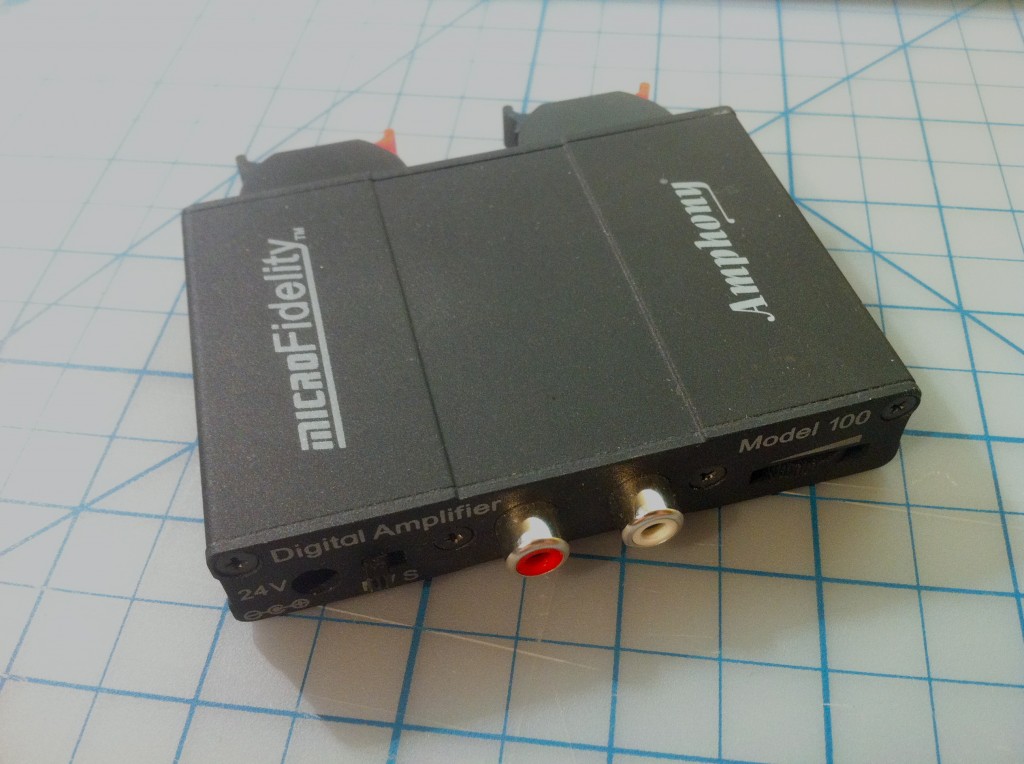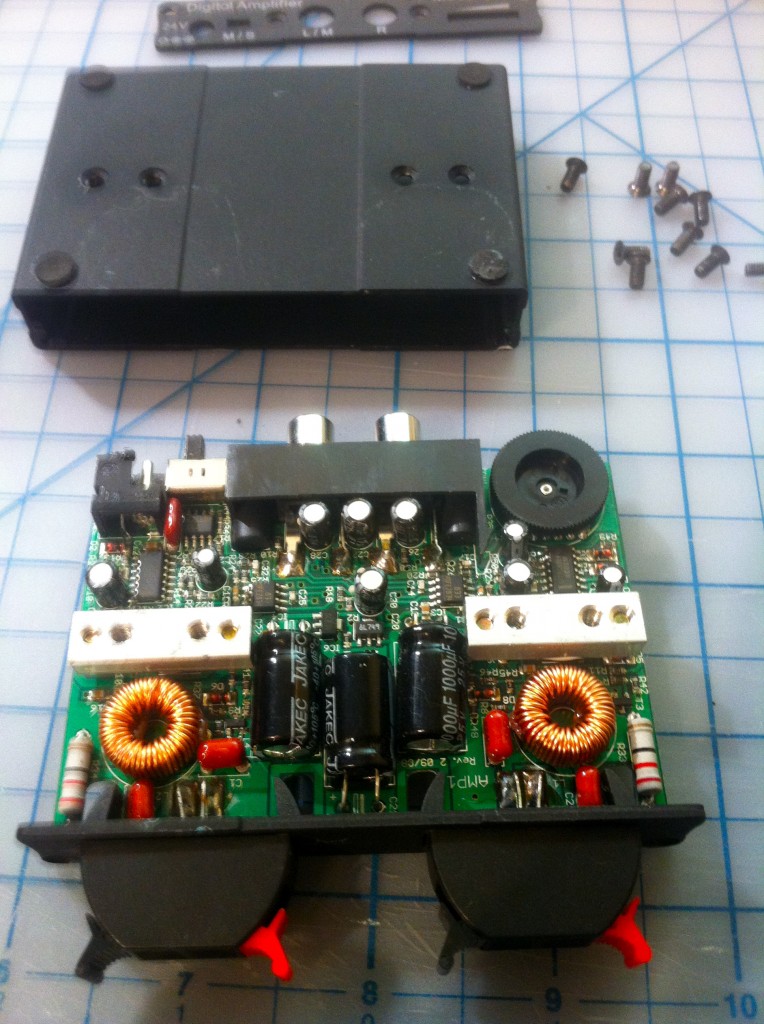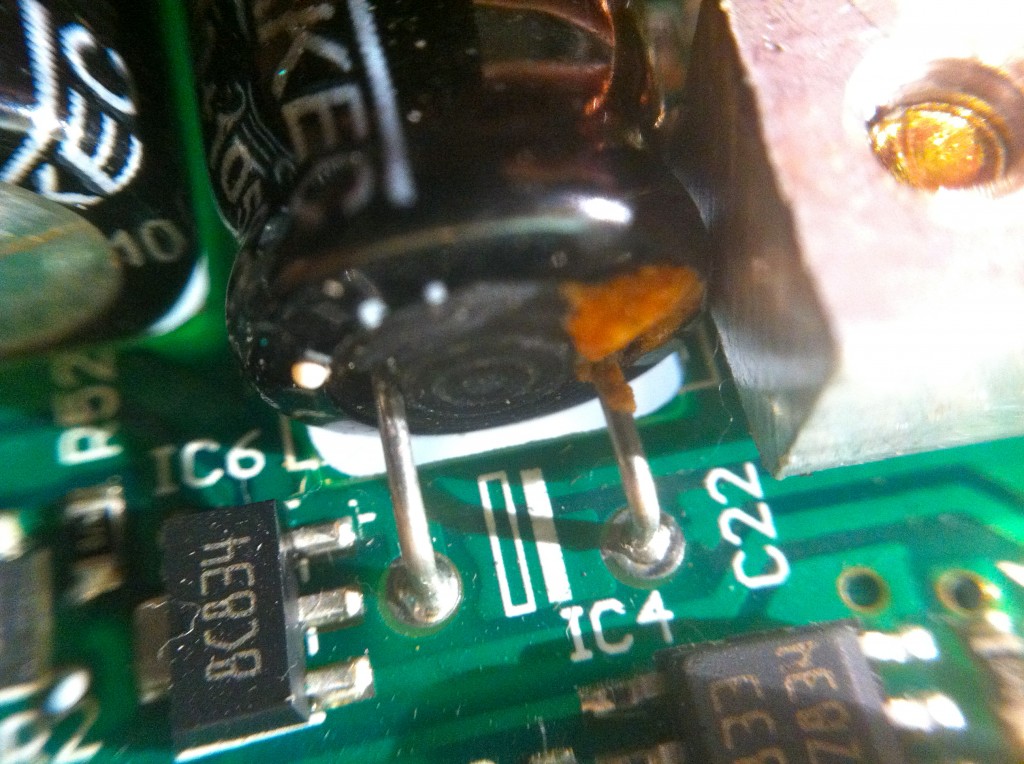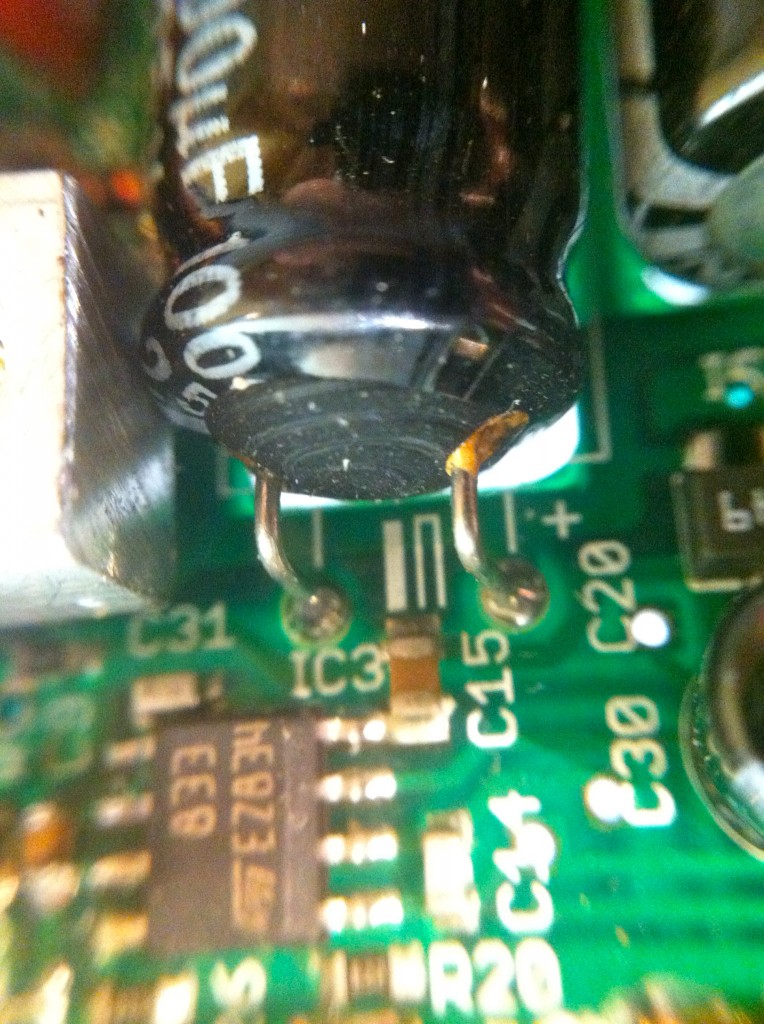 Now all I needed was three replacement caps. To the parts drawer! Sadly, I have plenty of caps in that size and voltage rating, but none that are exactly the same form factor. I tried in vain for a while to make some other cap fit, but space is really tight. So tight that the PCB has holes cut in it for clearance on these caps. No other ones would do- they need to be this exact size.
To the junk pile! I have all kinds of busted old gear here. Surely something has the right caps in it.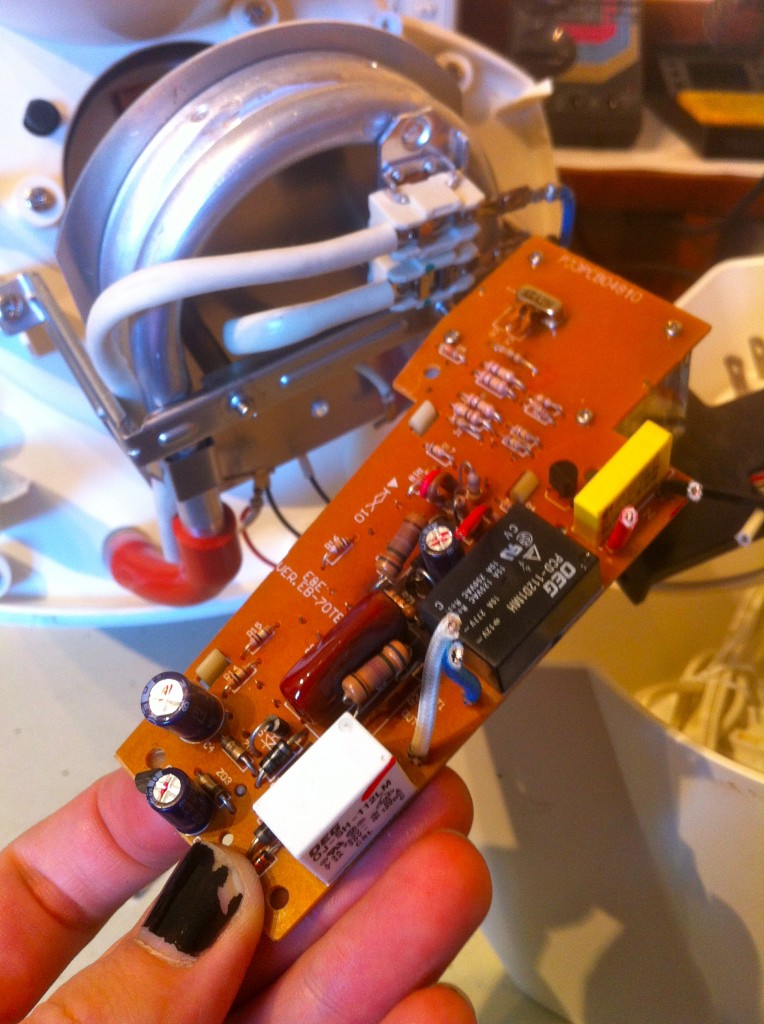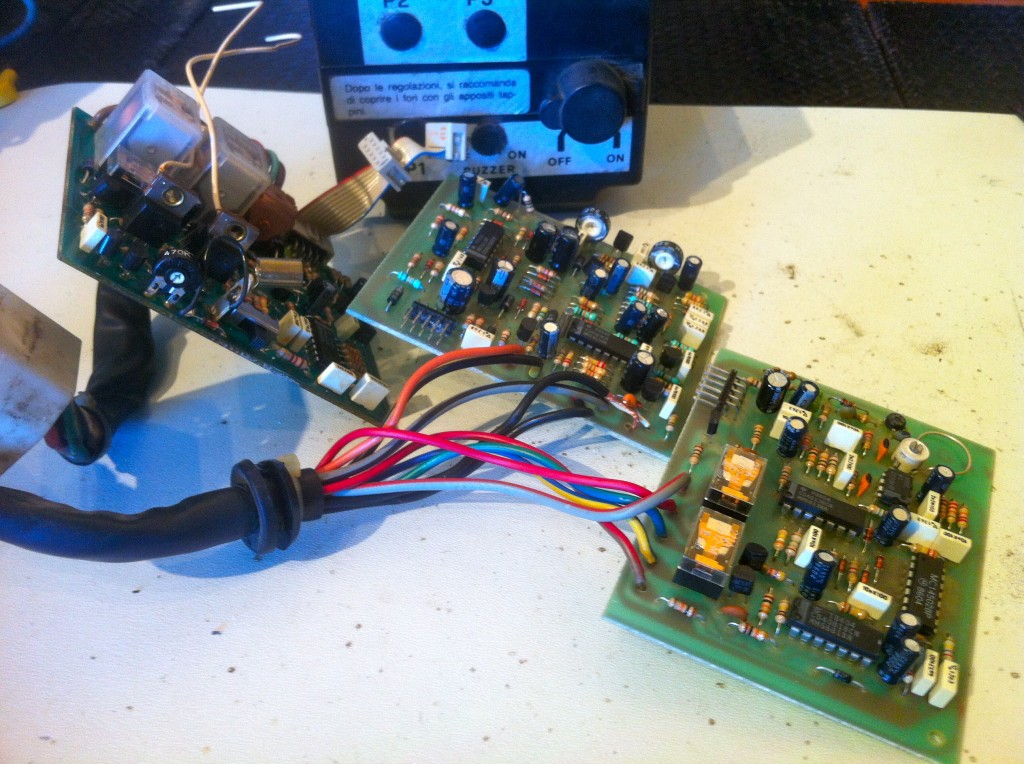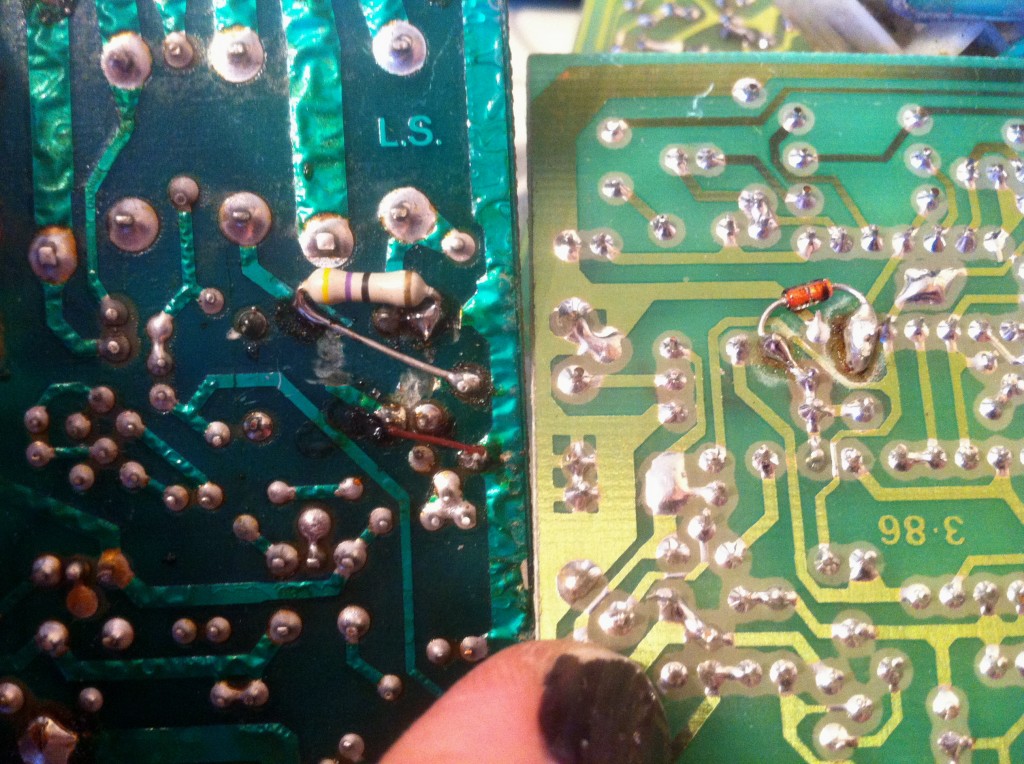 Well, all this electronic archeology is fun, but ripping old shit apart is not netting me the caps I need. In the interest of time, I went off to DigiKey and found the caps there. Thankfully, the online distributors are very detailed about their stock, so I could find the exact dimensions of cap that are required here.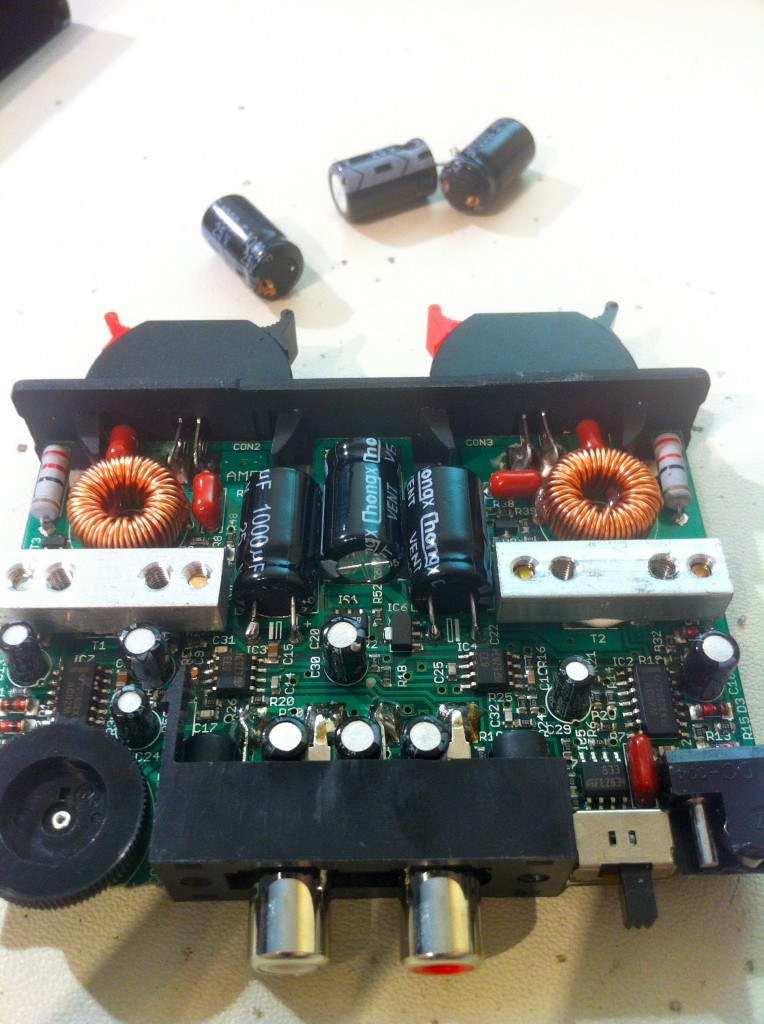 Now for the big test! Was that all that was wrong with this amp? Only one way to find out.
Result!  A quick run through all the features, and it's clear those caps were the only problem. 35 cents later, and my $70 investment is rescued. It really is a very nice amp. What is going on with Amphony's customer service, anyway? Guys? Anyone there? Bueller?