Just when you thought it was safe to render.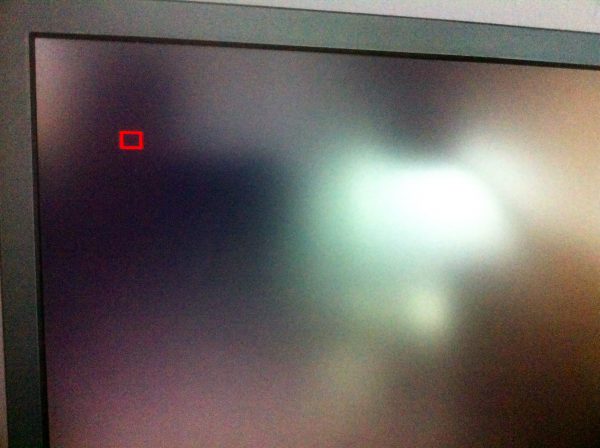 If you recall from last time, I had Veronica's GPU board all built, and successfully receiving sequences of commands from the CPU. In fact, I could send a clear screen command followed by a "plot sprite" command, and both were executed sequentially. Perfect, right? Time to ramp up to some serious rendering, right?
Well, you know by now that when I ask upbeat rhetorical questions, things have not gone well. As is often the case, the basics of a system work, but when you start to stress it a bit, things come crashing down. Such is the case with my CPU/GPU interface. But let's back up a bit.
Since it seemed like the rendering pipeline was operational, I figured it was time for the next step. I'm working towards a "Hello World" (always the symbolic first goal in computer science activities). To render that, I'll need a text generator. I put together a basic font, and a system to track a cursor and copy characters from the font to VRAM as needed. I realize I'm glossing over a lot of GPU firmware here, but don't worry. When I get that code to a useful point, I'll be posting it here on the site. It's still a mess of experiments and hacks right now, so it's not constructive to share it. I've had a lot of requests to see all the GPU code, but hang in there -it's coming (and be careful what you wish for).
It's worth noting here that what I built in hardware is an "interface". It's just a way to move a byte from one system to the other. Now it's time to build a "protocol", which is a software layer that sits on top of that interface to give meaning to the bytes moving around. My protocol (such as it is) is a two-byte packet. The first byte is a command, the second byte is a parameter. That simple structure should allow me to do everything I need to do. In the case of rendering text, the packet consists of the "render character" command, followed by the ASCII value to be rendered.
To test the GPU interface, I flashed some code into system ROM to render "HELLO" by pushing five character-render commands through the pipe. In addition to seeing the text render, I also need to stress-test the interface by pushing the commands as fast as possible. That's why you see the simple structure here of jamming bytes into the command register as fast as the 6502 can do so:
This code was manually assembled, and flashed into main ROM using Veronica's onboard EEPROM programmer.
In order to make sure the GPU can receive commands any time the CPU sends them, I set up a ring buffer that is populated by an external interrupt. You may recall that when the 6502 writes to $EFFF, the value is decoded by the VGA board, and latched into a 74HC573. An interrupt is then triggered on the ATMega, which proceeds to read the byte and act on it. "Act on it" in this case means pushing the value into a FIFO (first-in-first-out queue), to be processed when the GPU is ready. This is necessary, because the GPU may be busy generating sync signals when the command comes in, and the signal generation can't be interrupted, lest the monitor lose sync.
Here's the GPU code to receive the byte and push it into a ring buffer:
The ring buffer lives in the ATMega's internal SRAM, and is 256 bytes in size. This was chosen because I can mark the start and end of the buffer with a single byte each. As the "pointers" are incremented through the buffer, they will wrap around the buffer automatically when the byte-sized increment overflows. That makes the code simple and quick.
So, later on, in the GPU's main loop, it checks for commands in the buffer, and processes them if needed:
As you can see, there are currently four commands defined. Plotting a character is command $03.
Putting all this together, we have the CPU pushing out two-byte commands, which the GPU receives through a hardware latch and enqueues in a software ring buffer. It then uses the vertical blanking time to empty this buffer and perform rendering. Seems good, right? There's that rhetorical question-asking again. Do you see the problem here? If so, you're more clever than I. I didn't see the flaw in this plan until it was all up and running.
I put a loop around the 6502 code you saw earlier to fill the screen with "HELLO". Here's the result: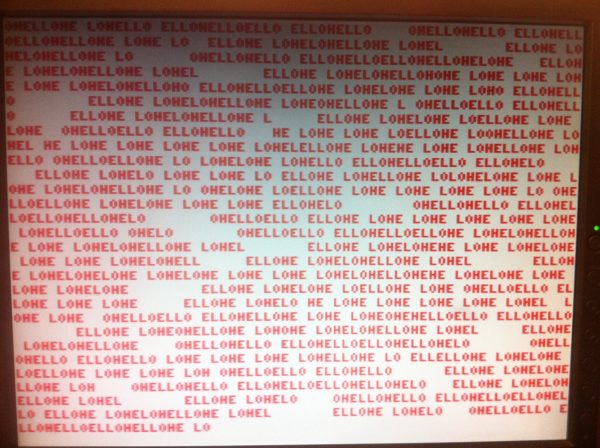 If you have experience with multithreaded programming, you'll recognize this as a race condition. Render-command bytes are being randomly missed in the pipeline, causing what you see here. If the first byte is dropped, nothing is rendered, skipping a letter. If the second byte is dropped, a random value ends up in the parameter byte, causing blank space to be rendered (odds are, a random byte will land outside the valid font range).
So what happened? Well, it's simple in hindsight. There are two interrupt processes running on the GPU- one for the VGA sync signals, and one to process the command buffer. By default on the ATMega, interrupt service routines do not interrupt each other. You can re-enable interrupts at the entry point to your service routine, creating nested interrupts. This isn't generally recommended, but in some cases, it's a decent solution. By enabling interrupts in one handler but not the other, you can effectively create a priority scheme. In this case, I enable VGA signal interrupts during command buffer processing because the VGA signals are non-negotiable. Well, again, in hindsight, the problem is obvious- if the command buffer is slowed down due to a VGA signal needing to be generated, a byte in the command buffer can be lost.
The 6502 code can push command bytes at a maximum rate of one every five clock cycles. The GPU is running 20 times as fast, so it has 100 cycles to process each command byte. If it takes longer, the next command byte will reach the hardware latch while an unprocessed command is still in it. I knew this, but my ring-buffer management code is well under 100 cycles, so I figured I was golden. However, even during the vertical blank period, the shortest route through the VGA generator is about 150 cycles. Ergo, the screenshot you see above. I didn't consider the potential extra delay caused by a VGA interruption during command processing.
The fundamental flaw here is that I created two realtime systems on the same CPU core, both of which are critically uninterruptible. The VGA signal generator must keep the pulses on schedule, and the command buffer must process commands in time. They can't co-exist. This is where my background as a software engineer has bitten me. My instinct to solve all problems in software has gotten me in hot water.
What I need to do is move one of these operations out into hardware. The command ring buffer is by far the simpler of the two, so that's a good choice. In fact, I already have a hardware ring buffer- namely the 8-bit latch that holds a byte when moving from one system to the other. A latch is the degenerate case of a FIFO- it's a ring buffer of size "one". However, a full-scale hardware ring buffer implemented in sequential logic chips is non-trivial. I've already built this VGA board, and don't really want to go back to the drawing board on it. What can I do?
If only there was some magic chip that would replace that 74HC573 latch with a full-blown ring buffer. Well, after some research, amazingly, there is (sort of). It's called the IDT7200L, and it's an awesome piece of kit. It's a 512-bit dual port SRAM with a FIFO interface, and even comes in a DIP package. The control signals are a bit different than what my latch was using, but I can adapt them, and effectively make a drop-in magic bullet that should solve my problem. This chip isn't cheap, but it's worth every penny to save all the time I have invested in this VGA design. Sure, I could build my own hardware FIFO from flip-flops or shift registers and splice it into my VGA board, but I like this way better. It will allow me to quickly get back to the problems I'm interested in.
First things first, I need to adapt the control signals. My old latch interface used two. First, an Output Enable (active low) which the GPU used when it needs to read the pending byte. Second, a Latch Enable (active high) which the address decoding logic used to store the incoming byte from the main CPU. There's also a third signal called "CPU IRQ", which comes from the address decoder and tells the GPU when the CPU has written to address $EFFF (and thus when there's a byte waiting in the latch). This ran to the Int2 pin (External Interrupt 2) on the ATMega.
These three signals map amazingly well to the FIFO chip. Among other things, it has a Read and Write signal (both active low), and it has an Empty Flag (active low) which can tell the GPU when data is in the FIFO. The only trick here is that the Empty Flag needs to be inverted (easily done in software on the GPU), and the old Latch Enable needs to inverted to become Write. The latter needs to be done in hardware, but luckily I have an extra inverter on my VGA board already. The CPU IRQ signal will become the inverted Empty Flag signal, and will be polled by the GPU during downtime (vertical blanking) to check for commands (instead of being interrupt-driven). So here's how I adapted the board for this new chip.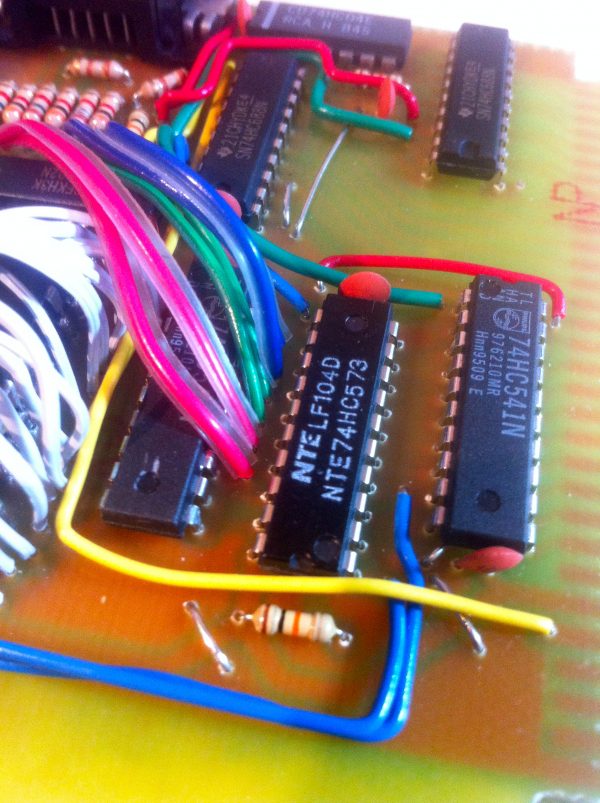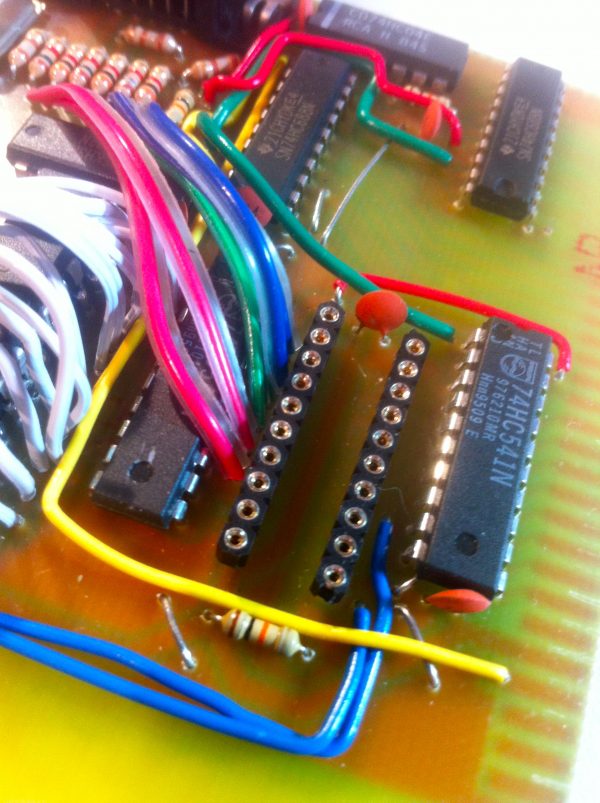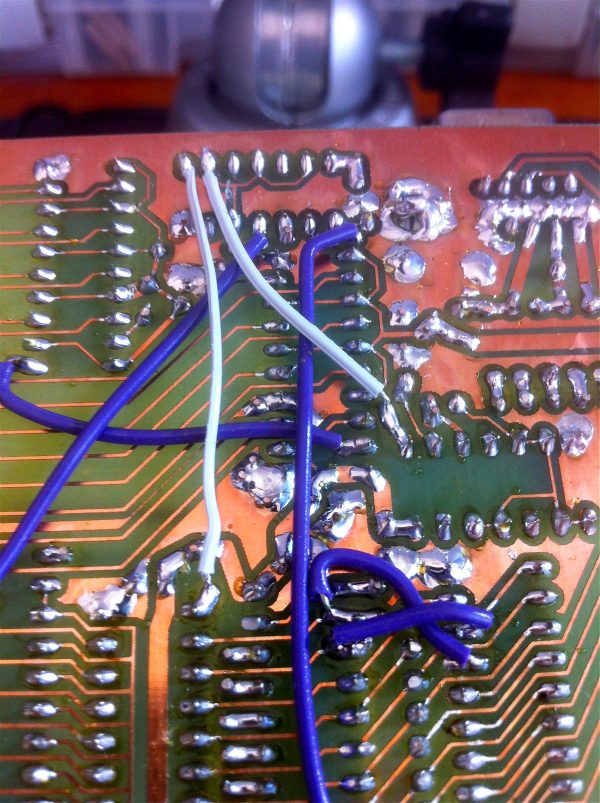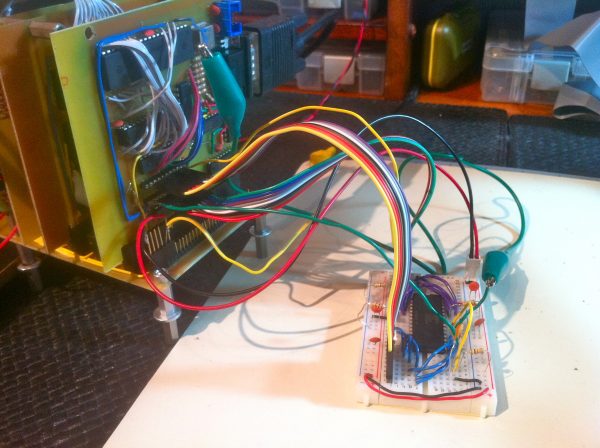 There's one other minor catch with the FIFO. Being a complex sequential logic device with internal state, it needs a reset signal. This isn't something my VGA board is equipped to provide. Since the reset consists of simply holding the Reset pin low for 50ns or so (according to the datasheet), I cheated. I put a little RC network on that pin with a 1nF capacitor and a 10k resistor. That causes the pin to be held low for about 6.67 μs at power-on. The reset pin doesn't seem to be too fussy about rise-time on that pulse, so at some point the capacitor exceeds the "TTL high" minimum, and the reset goes high and stays there until the device is powered off. Pretty hacky, but it works for now.
So, now that I'm done violating as many electrical engineering best practices as possible, does this thing work? Well, almost. Initially, I seemed to be getting junk out of the FIFO. So the first step was to make sure the data going in was okay. It's logic analyzer time…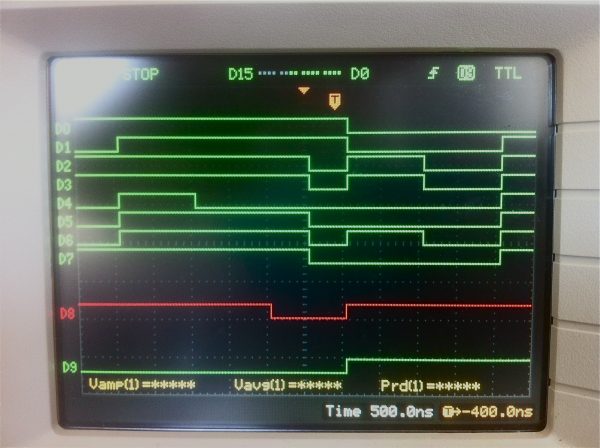 So data is going in correctly now, but I'm still getting junk. This part was tricky, because I couldn't tell whether the FIFO was outputting junk, or whether the GPU was reading junk (due to port pins being set up wrong). Everything looked right, but something wasn't. I needed a way to distinguish these two cases. Putting the logic analyzer on the FIFO output revealed that the data seemed to be correct there. That suggested the GPU code to read the FIFO's data was wrong. To verify this theory, I needed to know what the GPU was getting. I don't have any way to get output from the GPU though, in order to see internal register values. Or do I?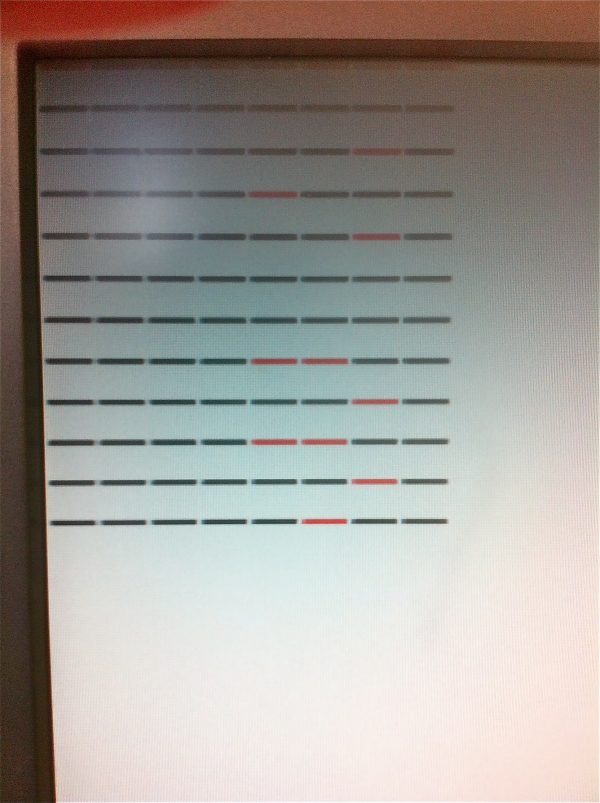 A closer study of the FIFO's timing diagrams revealed that it's quite a bit fussier than the old latch was with regard to set-up and hold times on the data lines. So, I needed to rejigger the software for reading the FIFO a little more. After that, it was working about 80% correctly (as verified by my data rendering, above) but I was getting occasional junk bytes, causing the command buffer to get corrupted. Now what?
After studying this problem for a long time (and sleeping on it a lot), I realized that one of the ribbon cables going out to the breadboard is connected directly to the VRAM bus (which serves dual purpose as the connection to the FIFO). That bus runs at 10Mhz, which means it's sensitive to noise, and so far I've had noise problems every single time I try to run a breadboard at that speed. Normally, noise problems just means a stray pixel or something fuzzy on the display. But in this case, noise means garbage bytes getting into the command buffer. Since the command protocol operates on pairs of bytes, if it gets out of sync or gets garbage, it can seize the whole pipeline. It must be 100% noise free to work at all. More work with the logic analyzer showed that garbage was being introduced because read pulses were coming from the GPU when no data was in the FIFO. Those lines would be high-impedence in that case, so anything the GPU read would be junk. These were "rogue" read pulses- the GPU though it was getting the non-empty signal, and thus tried to read data when none was available. These spurious non-empty signals seemed to be noise. I tried putting a 100nF cap to ground on the Empty Flag line, and the reliability of the command buffer jumped to about 98%. Okay, clearly I have noise issues, so the breadboard has to go. There may still be other problems, but this one needs to be addressed no matter what.
So I opted to take a leap of faith and proceed as though the interface worked aside from the noise. I built the permanent version, in the hopes that would clean up the noise and make it all work. If it didn't, at least I could continue debugging without noise as a variable.
I built a little daughter board that would hold the FIFO and adapt its signals to the socket where the old latch sat.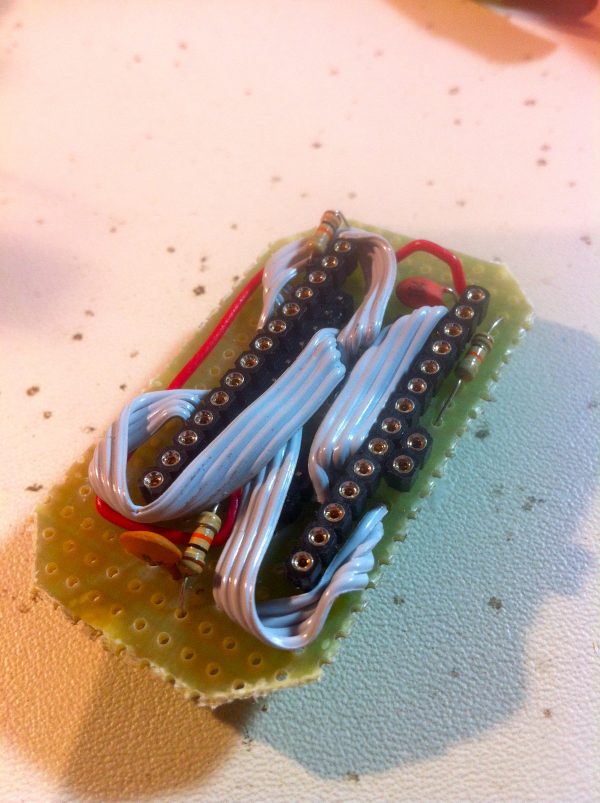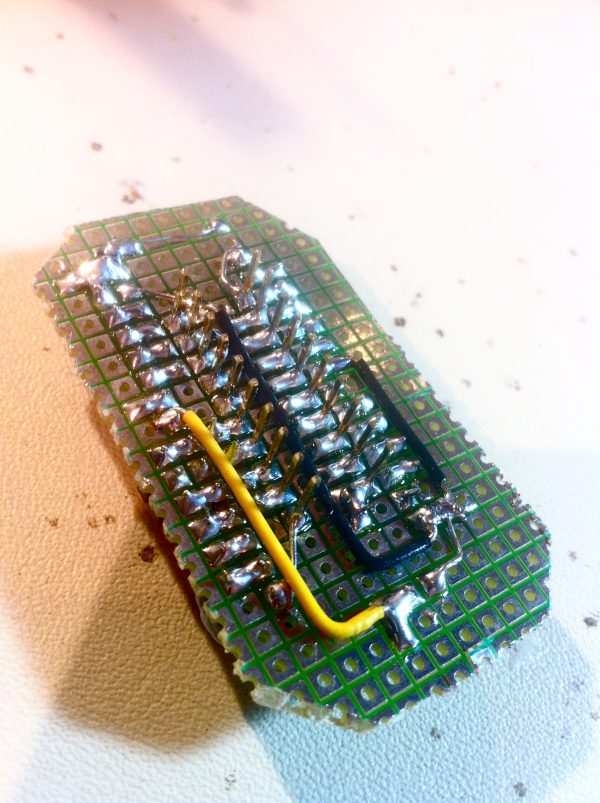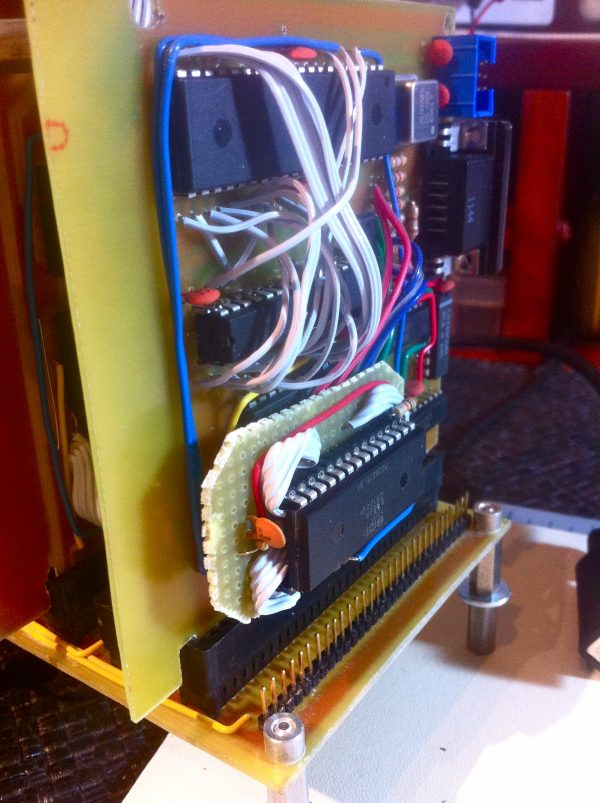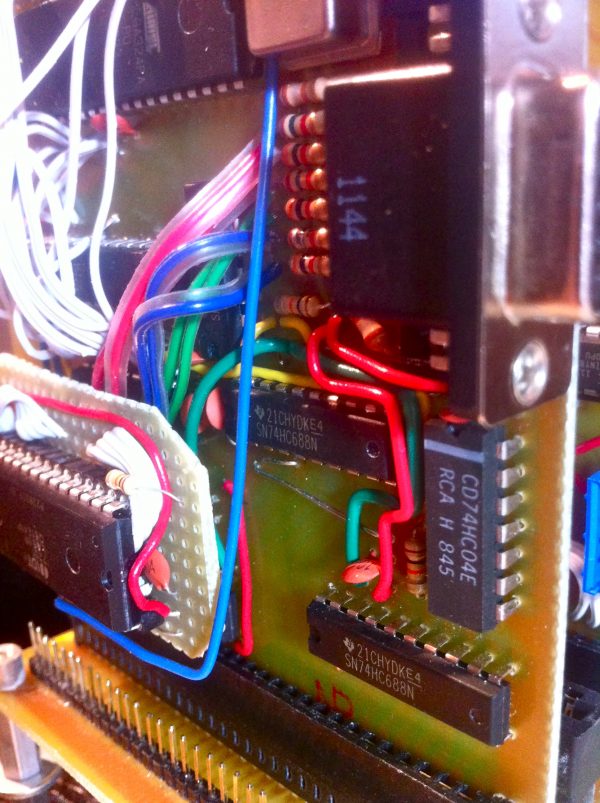 Okay, moment of truth. Was noise the only remaining problem with the interface? If so, I should see a screen full of "HELLO"s, with no spaces or dropped characters.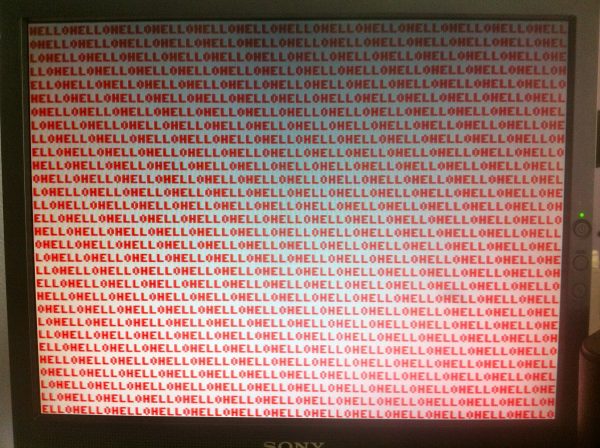 Booyah. So the point of all this was to get a Hello World, right? Well, a little more work on the text generator, and here's our money shot:
I switched the font to green on black in homage to the Apple // that I grew up with. The font may need some reworking. I really want it to be 3 pixels wide, because that gives me a healthy 64 character horizontal resolution. I knew characters like M, W and N would be problematic (you really need 5-pixels of width for those), but hoped I could make it work. I have mixed feelings about them.
Okay, next step is to clean up all this GPU code so I can finally share it, which I haven't done since way back in the early days of the VGA signal generator development.
In summary, I can say that printing "Hello World" is very easy when first learning to program, but very hard when you have to build the computer first.