Pushing the boundaries to see what blows up.
I can't ever leave things well enough alone, so while working on Veronica's input system, I decided to really push my PCB etching. I wanted to see if I can find the boundaries of what the process is capable of, and perhaps identify the weak points.
One of the key elements of the process is that I print the UV exposure mask on to two transparency sheets, and double them up. I've been assuming that one layer of printer toner probably wasn't enough to completely block UV. Ultraviolet light is sneaky stuff, capable of going right through blue tape, for example. However, doubling up the masks introduces a tricky element to the process- alignment. The two masks need to be lined up very very precisely, and this is difficult to do perfectly. So, it would be nice if I could skip this step. Can I?
Nope.
With that established, I was curious about how small of a feature I might be able to etch. I tightened up my clearances in Eagle to see what would happen.
Here's a little analysis of the result:
If this is repeatable, 5 mils (0.005″ or 0.127mm) is a pretty darned impressive minimum feature size for a homemade PCB. Repeatability is a big question. This demonstrates the power of a photographic process, however. You just can't be the precision that is possible (at least in theory).
All is not perfect, however.
As you can see from that shot, pushing the tolerances too much can lead to bridging. This corner of the board has a trace and a nearby pad that are badly bridged. This is really evident though, so it's fixable. The real danger is shown on the second pad from the top. See that nearly-microscopic bridge on the top left corner? THAT is the kind of error that can easily go unnoticed in a visual inspection of the board, and can drive you CRAZY trying to debug it. These types of errors are easily corrected with a sharp knife, but why make work for yourself? Debugging a new circuit becomes complex indeed if you can't trust the PCB.
So, the moral of the story is that you need some margin for error to prevent these kinds of things, even if the theoretical best performance of the process is quite a bit higher. A chain is only as strong as its weakest link, and a process is only as strong as its weakest step. In this case, the mask alignment is my weakest step by far.
Having a fill-plane isolation of only 5 mils is very tempting, because it really simplifies routing on a single-layer board. It means the ground plane reaches everything with few or no jumpers required. However, it's probably not worth the aggravation caused by errors like that one on the second pad.
Here's further evidence of both the alignment difficulty, and the theoretical power of this process:
To improve mask alignment to the point where a 5 mil clearance would be repeatable requires a change to how the masks are aligned. Perhaps some sort of alignment jig that could register against features in the artwork, or some other kind of printing process that could achieve UV-opaqueness in a single pass. Food for thought.
There's another interesting thing going on at this scale:
Look closely at the traces (the thinnest horizontal copper features in the image). Notice how the edges are slightly wavy? Those are actually the pixels in the printed mask. The mask is imported from Eagle into GIMP, then printed at 600dpi. If I continued to improve the precision of this process, at some point the pixelation in the mask at this scale would start to become an issue. Those bumps are probably in the 0.25 mil range, so I doubt that will be a problem any time soon. Still, it's neat to see the fingerprints of the process in the end result.
There are other reasons to be careful about pushing the process too much. Sometimes, even with doubling up the transparencies, an error sneaks through.
Of course, beyond all that, there is simple human error as well. I found this lovely piece of work in a corner of the board: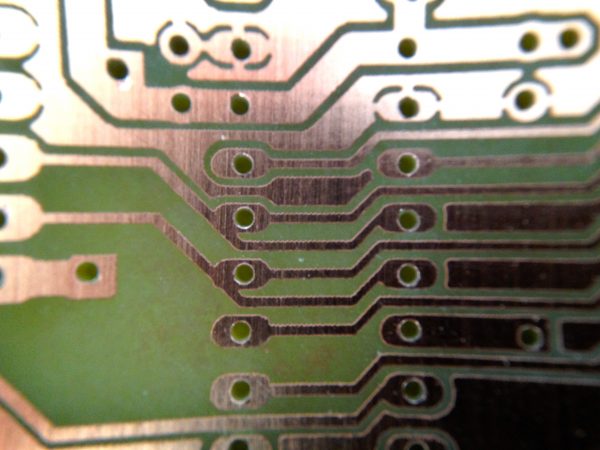 I neglected to run the ERC or DRC checks in Eagle on this board. Either of them would have caught that, since it's both a clearance violation and an electrical cross-connection. Whoops! Luckily I caught it in my usual visual inspection of the etch. It wasn't a big deal to cut the offending traces and replace them with jumpers.
So, that was an educational little tour of a board. The weakest point in my process is certainly the alignment of the two transparency masks. However, while solving that problem would allow me to tighten my clearances and shrink my traces, I've learned that other possible errors (Mr. Speck to the white courtesy phone, please) make that a dangerous proposition in any case. I think I'll leave things well enough alone for now.