A simple and easy way to make precise PCBs
UPDATE: There's a new and much more detailed version of this article here. This is still a good quick overview, but the details are better here.
You can't throw a rock without hitting a tutorial on etching your own PCBs. They're everywhere, and there seem to be as many techniques as there are hackers. So why am I bothering to write another one? Well, there wasn't any single procedure that met all my goals, so I decided to synthesize a process from everyone else's ideas. This is what I came up with.
My goals for the process are:
Cheap. Whatever I do needs to cost as little as possible
Clean. I want to minimize nasty chemicals that are difficult to use, store, and dispose of
Tidy. I don't want to invest in bulky equipment like laminators or laser printers.
Precise. I want to be able to use small traces, and make compact boards.
The first step is to make a board layout. You can't do much better than Eagle, although the learning curve can be a bit steep. The SparkFun tutorials are a really good place to start. After that, read the manuals that come with the software.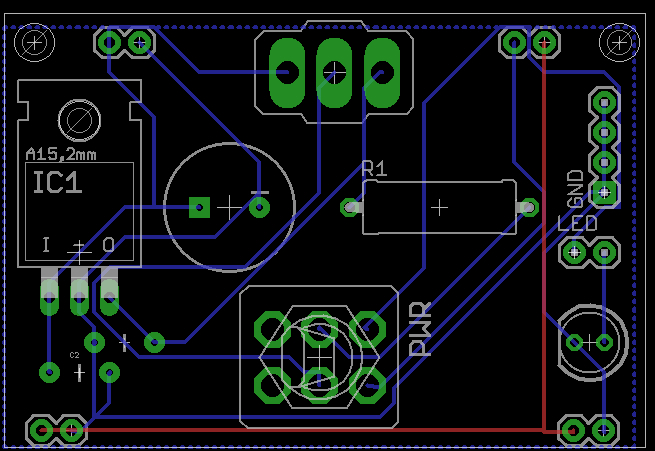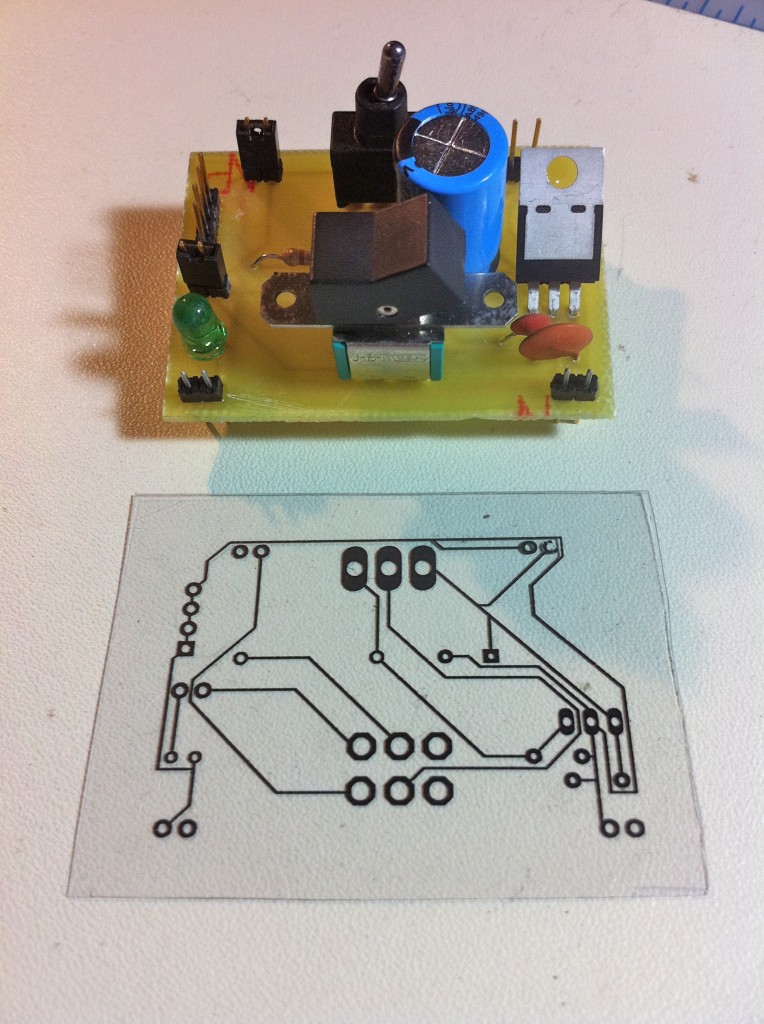 If any part of the printout isn't totally opaque, use a Sharpie to cover it up. I got a bit sloppy with mine while touching up the three large pads. You can see the result of that in the final product.
Next, I use the photoresist method to transfer the pattern to the board.
This tutorial from Jameco explains it far better than I could. Plus, Collin Cunningham is hilarious. You only need to watch up to the 4:10 mark. After that, his process is different than what I'm describing.

 You'll need Positive Developer, as well. This is the one and only unpleasant chemical involved. As much as I like Jameco, this stuff from Mouser is 10x cheaper and works just as well.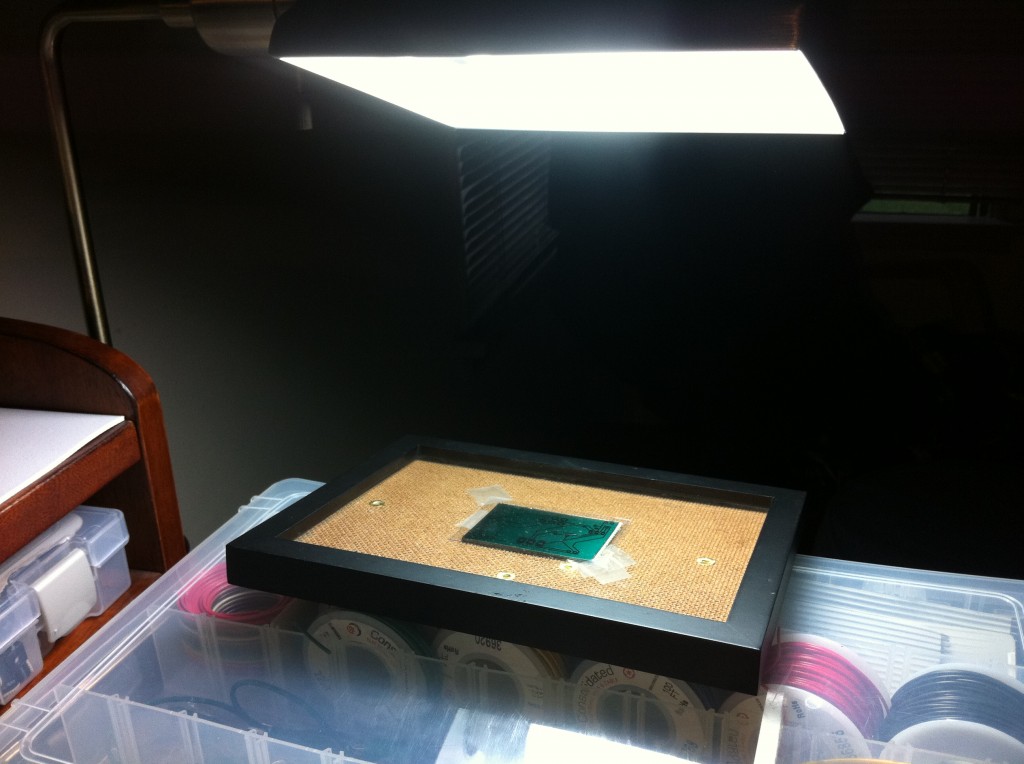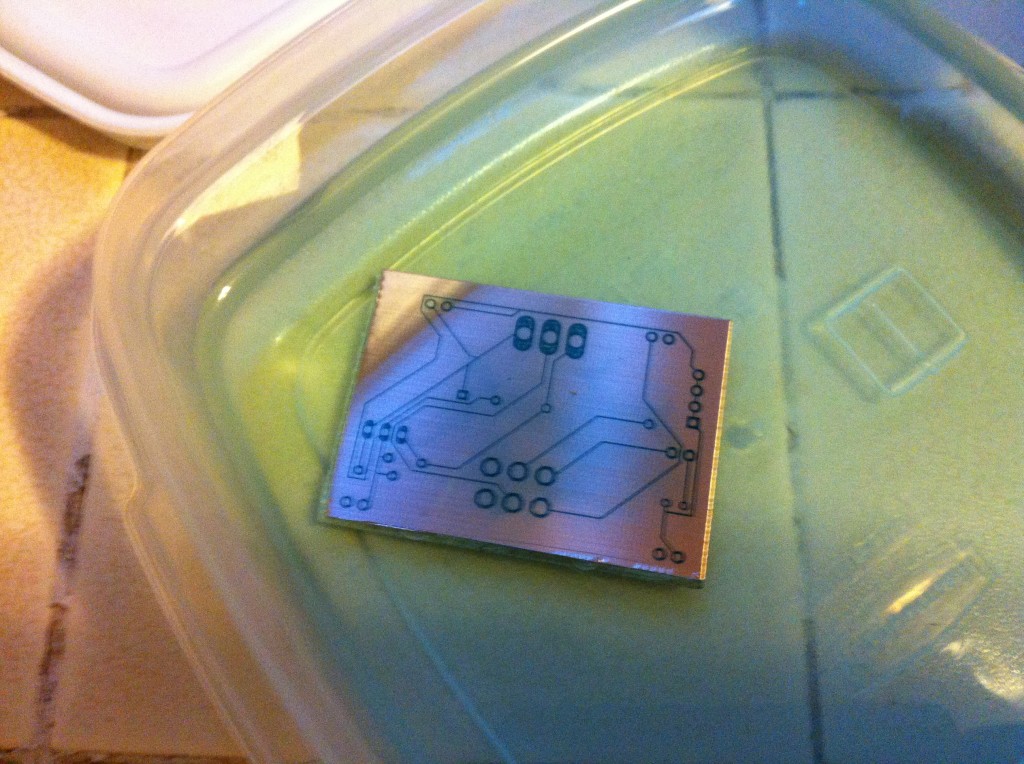 Now we're ready for the real work- the etching. For this portion, I can't give enough thanks to Stephen Hobley and his etching process. I'll embed his video here, but I strongly recommend reading his site, where he goes into detail on what this is and why it works.
Yes, you can etch a PCB with nothing more than hydrogen peroxide, vinegar, and salt! This mix is so benign you could almost eat it. Please do not eat it. If you do eat it, please do not tell the judge I told you to eat it. Your Honor, if you're reading this, I explicitly told people not to eat it.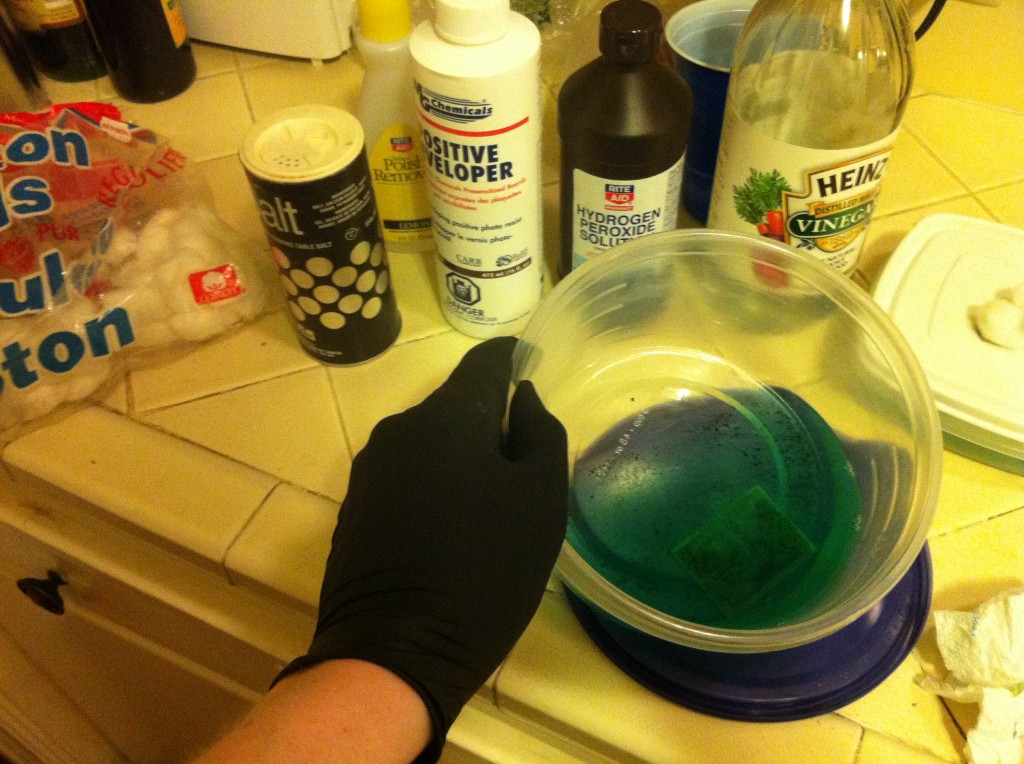 Once all the unwanted copper is gone, a quick wipe with nail polish remover and cotton balls will clean it up and get it ready to drill!