A little something to keep the mice from eating Veronica's wires.
Well, I finally got back to working on Veronica, but this project is less Steve Wozniak and more Martha Stewart. You see, Veronica is starting to grow, and she no longer fits in the drawer where I keep works-in-progress. Before I build too many more modules, she needs a proper enclosure. I thought a long time about this, and I decided that since she's a retro-tribute computer, she needs a retro-tribute case. I had the idea to gut and repurpose an old Philco radio. There are a zillion models to choose from (in every shape and size), they are attractively retro, and they are cheap on eBay (unless you want one of the special ones). I was pretty proud of this idea, until I later found out that using old Philcos for project enclosures is pretty common. Oh well. My mom still thinks I'm cool.
Note: I'd like to apologize in advance for the quality of the photos in this article. I must have messed up a setting on my camera, and I didn't notice until it was too late. I cleaned them up as best I could in software, but many of them are really awful. I aim for a high bar on photo quality here, so my apologies.
First things first. If a computer has a case, it needs a badge on that case, right? I figured it was time Veronica had her own cool 1980s computer logo. Here's what I came up with:
For best effect, look at it while imagining Wham wearing zebra-print spandex and rocking out in a New Coke commercial. Picturing it? Good. You may proceed.
I stalked eBay for a long time looking for the right Philco, and when it came along, I pounced. The trick here is getting one that you like, and also one that is the right size. They usually don't list the dimensions in the eBay ads, and that information proved difficult to find online. Some of the eBay listings do have measurements, so if you read enough of them, you can start to cross-reference the sizes. The website PhilcoRadio is a great resource, with wonderful photos of every model ever produced. You can usually deduce dimensions from similar models built on the same chassis using the information from that site.
Now here's where it gets really interesting. I think this thing really epitomizes the technological shift from mechanical stuff to electronic stuff. The mechanicals are fabulous, but the electronics are…. for lack of a better word…. amateur. Okay, okay, they get a lot of slack because Nineteen Forty Two. Someone probably listened to reports about D-Day on this thing. Still, it's neat to see the contrast in sophistication with today's electronics.
After deciding I wanted my control panel to go where that glass tuning display is, I had my second flash of inspiration for this project. I realized I can etch the control panel as a PCB! It will be sturdy, easy to make, and the resulting copper colour will compliment the old radio perfectly. Huzzah! Okay okay, this idea is hardly original either, but let me have this one.
So, with that plan in mind, it was off to the drawing board. I took measurements from the glass panel, fired up Inkscape, and came up with this:
The font I'm using there is called Android Nation, and it's by Nate Piekos. He makes great free-to-use (and paid) fonts. This one has the perfect 1980s look for our 1980s computer. If you're interested, here's the SVG vector file, and the PDF I generated to etch with. One trick with this is that the panel is almost 11″ wide. I don't have any copper boards that big! You can buy them in large sizes, of course, but they're expensive and I wanted to use what I have on hand. I split the panel in two and arranged it to fit on a standard 4×6 PCB. There will be a seam visible, but I figured it would be minimal. Besides, I will probably be making another one of these later, as I add or change controls. That's the nice thing about this approach- it's easy to change something in the SVG file, and just re-etch a new panel as needed.
Let me take a quick sidebar to talk chemistry. Etching this board required quite a bit of solution (using my usual process), so I got to thinking about disposal. Some commenters on Hack-a-Day suggested that dropping aluminum foil into the used solution neutralizes it by (I believe) precipitating the copper back out. I couldn't resist trying it.
Okay, enough faffing about. Back to business.
As you can see, the seam turned out to be more visible than I had hoped. The factory-cut edges of the PCB don't actually have copper flush to the very edge. I suspect that's because some large guillotine machine is hacking them out of larger sheets. If I'd known the seam would be this visible, I would have worked it into the design better. It's in a bit of an awkward spot here. Next time!
Okay, time to wire up this chica. The controls include all the ones I've been using on my test rigs up to this point. Left to right, they are:
Main power
CPU Run/Stop (1Mhz clock or single-step clock, respectively)
Single step (push button)
Reset (push button)
ROM Mode. In Run mode, the EEPROM is used as ROM. In Program mode, the on-board EEPROM programmer is activated.
Slot 0 Allow/Deny. This is sort of a workaround, because the EEPROM programmer needs the system bus to itself during programming. Someday I'll have a full bus arbitration circuit of some sort, which will make this switch unnecessary.
If you're really paying attention, you may have noticed Veronica seems to have lost weight. I've been making noise for a while about cutting the extra PCB off the backplane, and I finally did it. It was needed to make the case work out the way I wanted.
One last detail to take care of. The radio I bought was missing the back panel. I wanted something light and easy to modify that would serve to keep the dust out. I ended up making one out of an old printer-paper box. There's something poetic about this, since I've sworn off owning ink-jet printers. I no longer wish to be locked into their scam ink economy and fly-by-night drivers.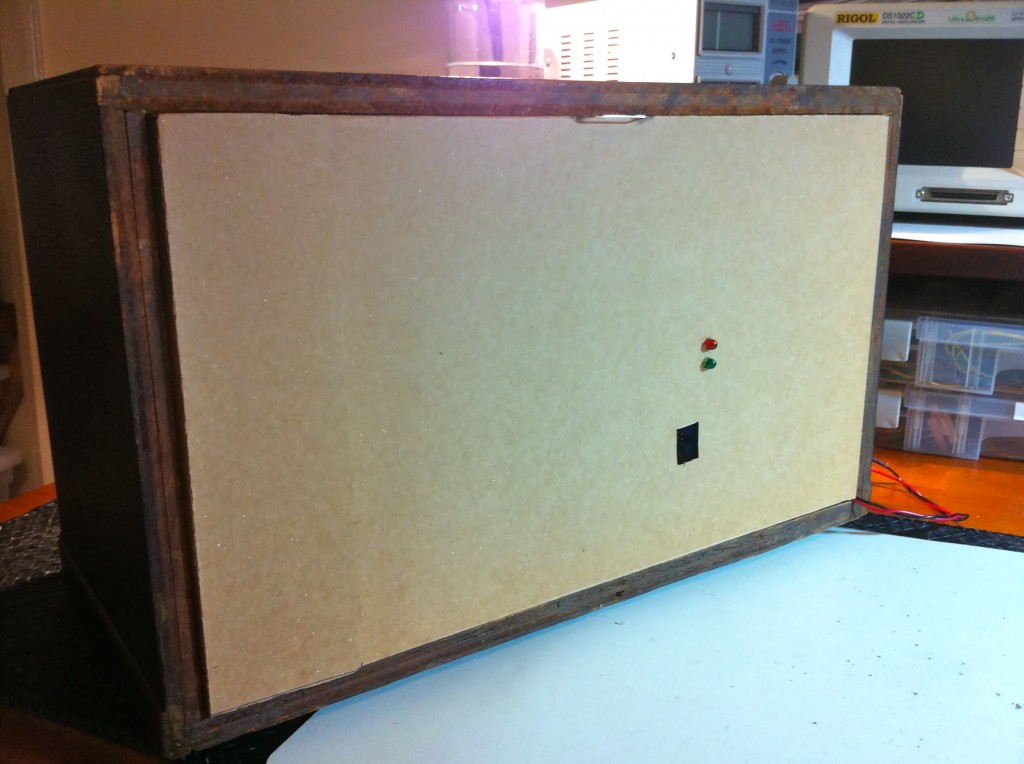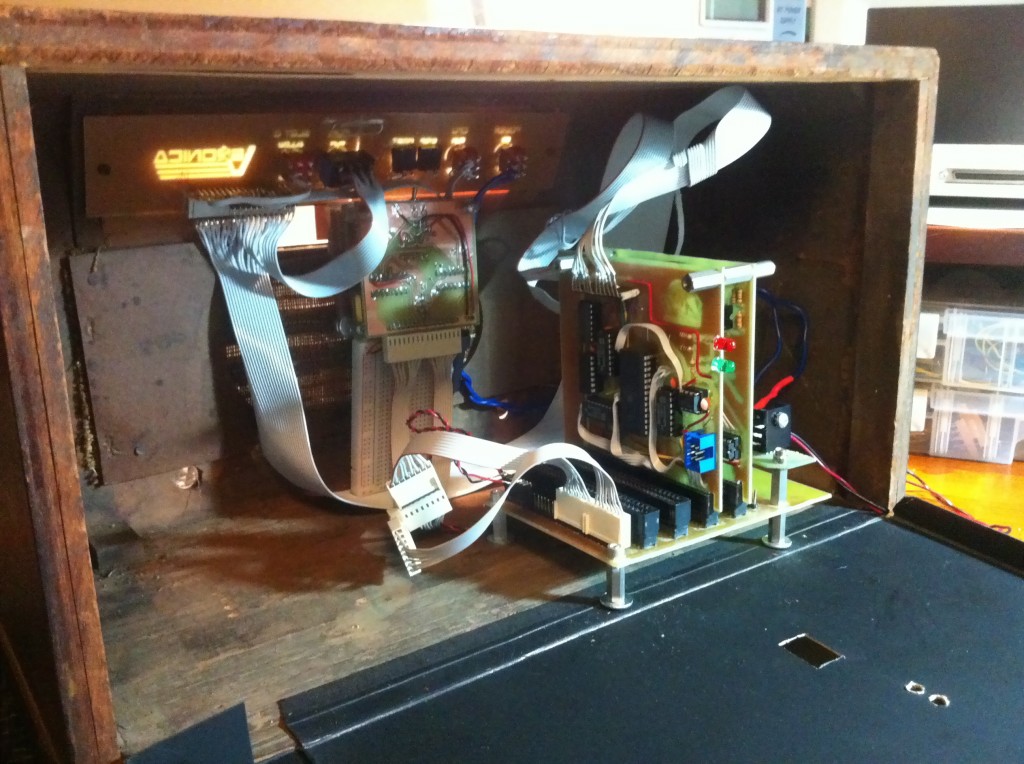 In that photo, you can see my third and final flash of inspiration on this project. The holes in the bottom are drilled large enough to fit an entire standoff, not just the screws. See those washers at the base of the standoffs? There's another set of standoffs screwed in under those, sitting in holes in the case. This gives me the best of both worlds. For casual use, they are secure as-is and allow easy removal of the PCBs for development. For serious transportation, I can put screws in the bottom to hold those standoffs in place from the bottom. Simple!
Also, note how light shows through the etched portions of the control panel. That's just screaming for some LED illumination, isn't it?
Well, this is exciting! I'm finally all set up to do some more electronics on her again. This was a lot of work, and many nights of waiting for glue and paint to dry, but it really needed to be done to start making forward progress again. I hope you enjoyed the ride!